Bolero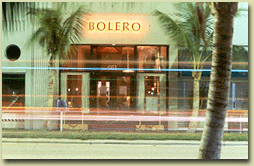 This unique restaurant takes the center stage in South Beach. Since it's opening in 1999, Bolero has become a favorite of locals and tourists alike. A cozy 70 seat fine dining restaurant, a hidden jewel in the heart of South Beach's nightlife. Bolero offers an outstanding menu combining Caribbean, Cuban and Asian flavors. Every night is a different experience at Bolero with either the Best in live music or international D.J.'s.
" Connoisseurs of Latin Music are advised to head to Bolero. This elegant restaurant with a long mahogany bar is home to the best Latin band on the Beach" - Nightclub and Bar Magazine.

" The Food is good, the drinks are strong and the place is beautifully appointed but the charm of learning lies in its live music. It is unpretentious and instead of the infamous Beach attitude, you get a warm welcome and friendly service." - The Miami Herald

" Life here is a cabaret. Make that a carnival" - New Times

"The food couldn't be better, with spicy Cuban inspired seafood concoctions and an explosion of compatible flavors on energy plates. Hands down the best Mojito in the city and the greatest vintage salsa vocals flood the restaurant."
- Review by Gayot.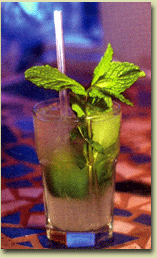 " Take a lucite barstool and order Miami's best Mojito, with flakes of spearmint swirling in sweet lime and rum." - Travel and Leisure Magazine.

A perfect space to have your private affair from birthday parties, wedding receptions, to corporate dinners. Special menus are available for dinner cocktail parties.

Bolero is open for dinner Monday through Saturday 6:00pm to 12:00am.
Enjoy the music and dancing of Bolero. From Merengue to Arroz con Pollo, think Bolero.

Bolero is located at
661 Washington Avenue,
MiamiBeach, FL 33139
email: info@bolerosouthbeach.com
Copyright 2001 - All Rights Reserved
Site Created and Maintained by Sitanium Designs